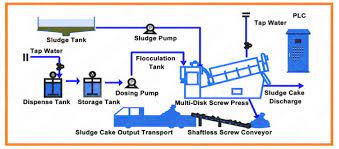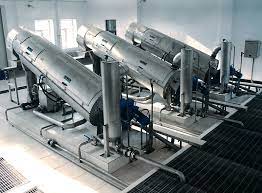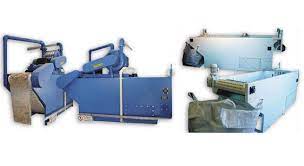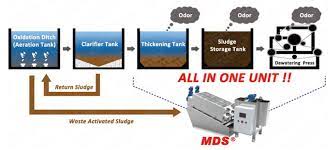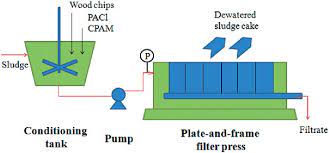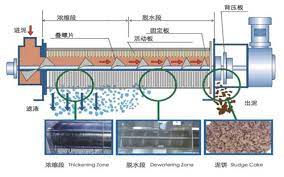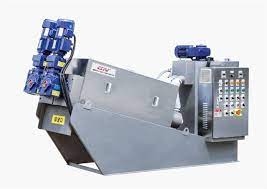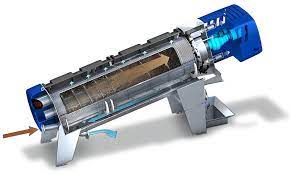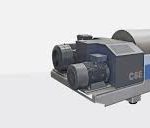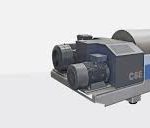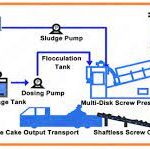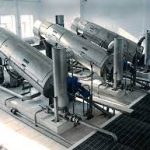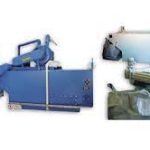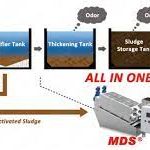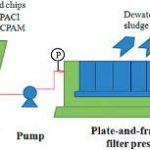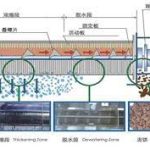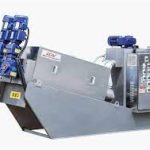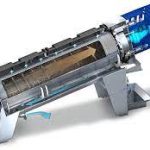 MÁY ÉP BÙN CỦA MỸ
Thông tin chi tiết
How the Flottweg HTS decanter® functions
The digested sludge is pumped from the digestion tower into the sludge centrifuge.This dewaters the digested sludge from 2 – 6% dry solids to 25 – 35%.Dewatering in the centrifuge is achieved by means of centrifugal force.
The Flottweg HTS decanter® is adapted to the specific characteristics of the sewage sludge.The centrifuge is suitable both for the dewatering of digested sludge and for the direct dewatering of excess sludge.
Product features
Efficiency
The Flottweg HTS decanter® was specially designed for sludge dewatering.The energy efficient and high-performance Flottweg Simp Drive®, along with the continuously optimized geometry of this decanter centrifuge, ensure dry solids values that are several percentage points higher than those reached with other machines.If the DS value can be increased from 23% to 25%, this means that the sludge volume is reduced by about 80% for sewage treatment plants.This also reduces the costs for transportation and disposal by around 8%.In addition to the highest possible dry solids content and highest dewatering performance, the sludge centrifuge also scores in terms of both electricity and polymer consumption.
highest dry solids content
minimal power consumption
minimal polymer requirement
Since the centrifuge consumes less polymer and electricity, operating costs are reduced.In addition to the energy-efficient Simp Drive®, waste water treatment plants equipped with Recuvane® can save a further 20% energy. Decanter centrifuges do not require consumables such as filter media or filter cloths, which further reduces the cost of operating the plant.
energy savings of 20% thanks to Flottweg Recuvane®
low polymer and energy consumption for lower operating costs
consumables such as filter media, filter cloths etc. are not necessary
Centrifuge spare parts and wear parts can be easily exchanged on site, as well as accident prevention checks (acc. UVV). This saves the operator time and money. Highly effective wear protection ensures that the centrifuge has a long service life.
highly effective wear protection
Easy replacement of spare and wear parts on site
Accident prevention checks (acc. UVV) are carried out on site
Since Flottweg HTS decanters can be operated continuously and automatically, personnel costs are reduced to a minimum. During operation, the sludge centrifuge can be automatically adapted to variable inlet and operating conditions by the PLC or via remote monitoring. A cleaning cycle during the operating phase is also dispensed with. The dewatering centrifuge is managed by a control module – equipped with the InGo User Interface. InGo was awarded the German Design Award 2018 for its ease of use. The operator interface shows all important parameters at a glance and permits simple control and automation of the system. During operation, our HTS decanters can be automatically adapted to variable inlet and operating conditions by SPS or remote monitoring.
continuous and automatic operation
automatic adaptation to variable feed and operating conditions during operation
no cleaning cycle during the operating phase
Flottweg InGo for easy control of the system
Efficient dewatering equipment combined with competent service
The raccionamiento Bosques de Natura waste water treatment plant in Tijuana, Mexico, treats waste water from 7,200 households.
It uses a Flottweg C-series HTS decanter to dewater the accruing sewage sludge®.Learn more in this video.